Toronto's housing market is showing clear signs of recovery, with home sales surpassing last year's figures and prices inching closer to pre-pandemic highs.
Home sales in Toronto reached a total of 9,012 last month, marking a remarkable 25% increase compared to the same period last year and a solid 19.67% rise from April. The increase in sales shows that more people want to buy homes. They are adjusting their preferences due to higher borrowing costs but finding good opportunities in the market.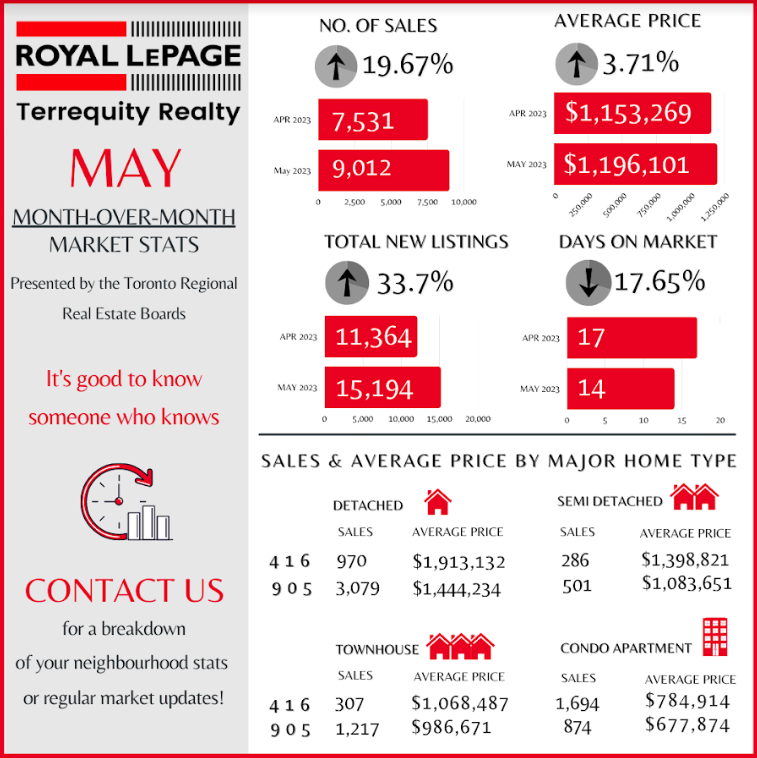 The recent resurgence in Toronto's housing market can be attributed to the Bank of Canada's decision to halt interest rate hikes after a rapid succession of eight increases. The change in policy has motivated many potential buyers to get back into the housing market. They are attracted by the strong increase in rental rates and the high number of people moving to the area, mostly due to immigration.
The number of new listings totaled 15,194 in May, representing a 33.7% increase from the previous month. The average selling price of a home was $1,196,101, marginally lower by about 1% compared to May 2022, but up by almost 4% from April.
As the market stabilizes, sellers are adopting new strategies to align their asking prices with market expectations. With these positive trends, Toronto's housing market is poised for further growth in the coming months. Stay tuned to see what the summer housing market brings! As always, feel free to contact me with any questions.